Sorry for the lack of posting! As I mentioned I am moving. Right now I am in Portland Maine for a little vacation and then next week I will be going to St. Louis where I will stay for the summer. This is just a quick update to say that I haven't abandoned my blog! It will probably be about a week until I return to regular posting though. Hopefully I will have a few new posts next week too. Here's my home town of Portland Oregon which I was sad to leave and a big thank you to all my friends who threw me a great going away party!
Here is a photo taken in Portland Maine a few days ago when I was acting in a friends video. The shoot took place at night in the rain so it was hard to get a good shot but I really like the outfit I wore so I figured I would post it anyway. It is still really cold in Maine hence the fur coat.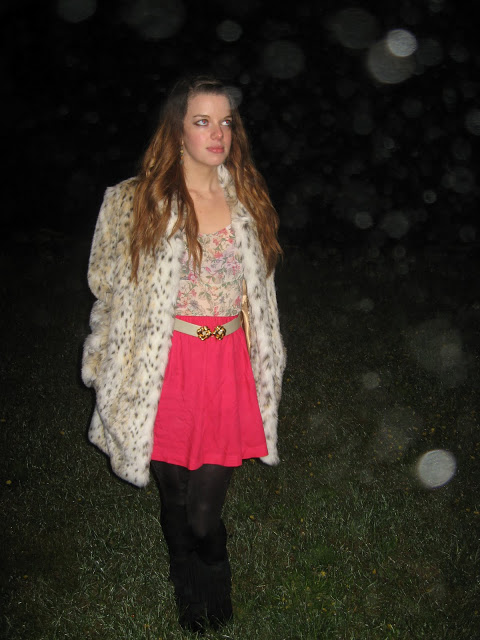 Not the worlds most flattering picture of me but you get an idea of the outfit. The shirt is a really pretty washed out floral pattern with a crocheted back. This is my snow leopard print (faux) fur coat which I hope to get more use out of this coming winter in New England. I promise more regular updates soon! Also, tomorrow is my birthday! I will be 25 so I am excited to celebrate being a quarter of a century old.
~ Coat: Dennis Basso for QVC
~ Shirt: Forever 21
~ Skirt: Urban Outfitters
~ Tights: H&M
~ Belt: Vintage
~ Boots: Chinese Laundry