How is it November already!? It is really starting to get chilly out (at least here) but I'm still excited for fall. I was sick for over a week in October so I had plenty of time for online browsing (or actual shopping…being sick is dangerous for this reason) and it took a lot for me to edit down this list. I didn't plan for all these items to go together in an outfit but they definitely work together.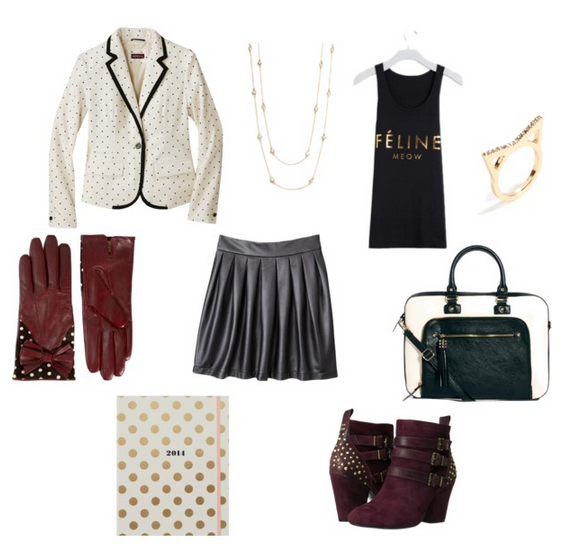 1. Blazer » I'll say it again, I love Polka dots on everything. I wish this blazer came in different colors though. I actually tried it on at Target and it is really cute and well made but I decided the cream color isn't flattering on me.
2. Necklace » I'm quickly growing obsessed with everything from BaubleBar and I really like this delicate double strand necklace for those days when you don't want a big statement necklace.
3. Tank » I'm not a crazy cat lady yet but I probably will be someday so I think this Féline play on Céline is fun and cute.
4. Ring » More crazy cat lady stuff!
5. Gloves » These gloves are SO adorable but they sold out before I could get them so I got these tech touch bow gloves instead.
6. Skirt » I tried this skirt on at Target too and it didn't work for me but I've seen it look cute on other bloggers. I'm digging the leather trend happening right now.
7. Bag » I started only buying real leather bags because they seem to last much longer but I love this bag for work and it might actually fit my laptop and still look chic.
8. Planner » I ended up getting a different planner because I wanted something very specific to stay organized but I'm in love with these Kate Spade gold polka dots!
9. Boots » Booties are a must for fall! Sadly I already have so many pairs of shoes (including booties) that I probably won't be buying any shoes this season (let's see how well I can stick to that rationalization ha!).