While I was in Maine I planned to take a bunch of outfit pictures but of course I ended up taking none. These pictures weren't meant to be an outfit post but I liked them and you can see what I am wearing so I figured they are better than having nothing to show! Excuse my goofy expressions since I am in motion in the shots. They were taken at a lovely park that overlooks the ocean which is very cool. My inner child loves to swing because it gives me a tiny rush and it was amazing to swing high and see the water. We rode bikes along the water to this park which was also fun, I have missed riding a bike more than I expected. As I said in an earlier post it was still pretty chilly so I had to wear boots and a sweater.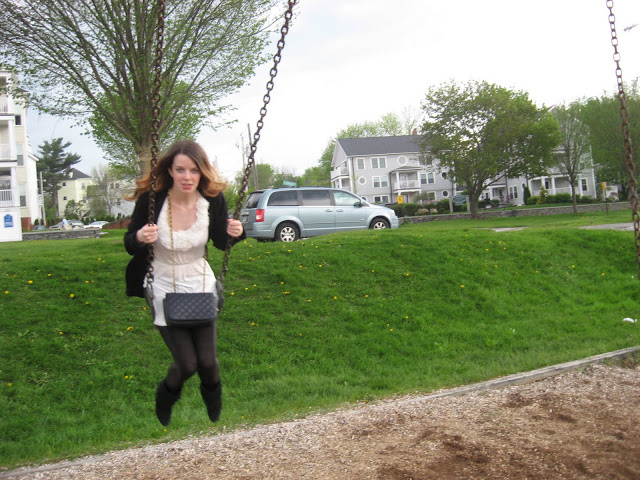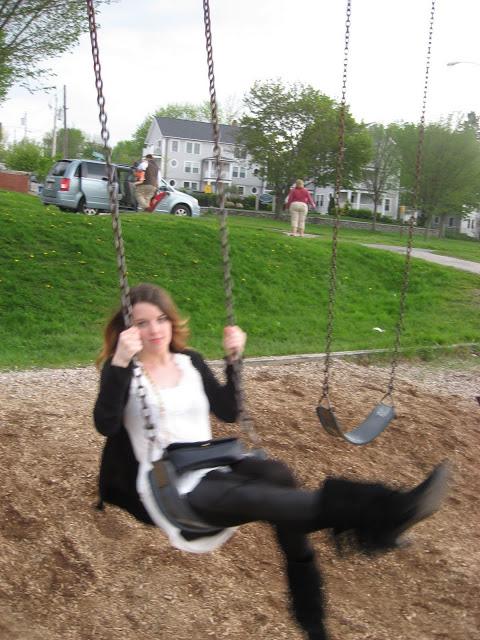 I was inspired to wear black and white by the Chanel contest video that we made the day before this because black and white is one of the things Chanel is known for. I love these leggings with the faux leather panels down the side. I really never want to wear regular leggings again, even to yoga. I may try to invest in a more expensive pair for the fall since these are already starting to wear out (I do wear them a lot!). I was worried that my fringed boots might get caught in the chain of the bike I was riding but I had no problem whatsoever riding in this outfit. The purse I am wearing in these pics is very small but I find that I can actually get used to carrying a small purse for the spring and summer when I don't want to be weighed down by a giant bag. Since my trip to Maine I have been carrying this bag quite a lot so expect to see it more often. The white dress is cute, with it's ruffled front and triple crossed back straps (not pictured). It is originally from Urban Outfitters I think but I found it at a thrift store in perfect condition. It is very sheer though so to wear it in the summer I have to find a full slip to go under it and I cannot find a good one anywhere! I know most women don't wear slips anymore but come on sometimes you have to! Is it too much to ask for a cute one? All they make now are spanx type slips which I don't want and would probably be really uncomfortable in the 90 degree weather I am living in.
Can I mention the weather anymore in all my recent posts? What can I say, it is one of the most important factors for choosing clothing, in my opinion anyway.
~ Sweater: Target
~ Dress: Pins and Needles
~ Leggings: Urban 1972
~ Boots: Chinese Laundry
~ Purse: Vintage