Well, this is my first outfit post! I have to preface it by saying that I am not in any way a master photographer or the world's most photogenic person. So bear with me as I try to figure out how to take pictures of myself. Also, I feel it is important for me to disclose that for various reasons the majority of my wardrobe is on the other side of the country in storage. So, for the next few months I will have a very limited wardrobe and also limited good backdrops to take pictures in front of at my current location. Eventually I want outfit posts to be a main focus of this blog but for now due to these circumstances they will not happen every day. It will be a challenge to create new and interesting outfits with a limited wardrobe but that's part of having style right? Once it gets a little warmer (or at least stops raining) I plan on taking photos outdoors as well which will make the photos a lot more interesting than the one below.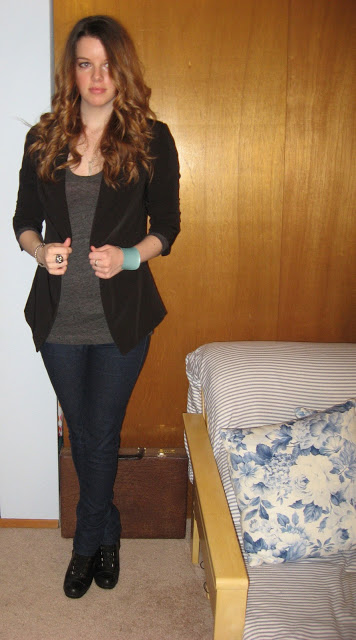 So clearly I don't know how to pose either but you'll just have to get used to that and this is the closest I could come to a blank wall (which seems to be an indoor blogger self portrait requisite haha) but it will do for now!

On to the important things: the clothes. This outfit is very casual for me. I am pretty good at dressing up, like way up, think OVERDRESSED for everything. So recently I have been trying to put together a more casual style because I think it's important to be able to do both. While this outfit works for me it's a touch on the boring side for my tastes so I have to figure out a nice middle ground between overdressed and snooze fest. This blazer is new (due to my online shopping addiction), I really wanted a nice basic black slightly over sized (or boyfriend type if you will) blazer and so far I think I like it. It works for a casual movie anyway and at least it can be dressed up or down and versatility is key in a limited wardrobe.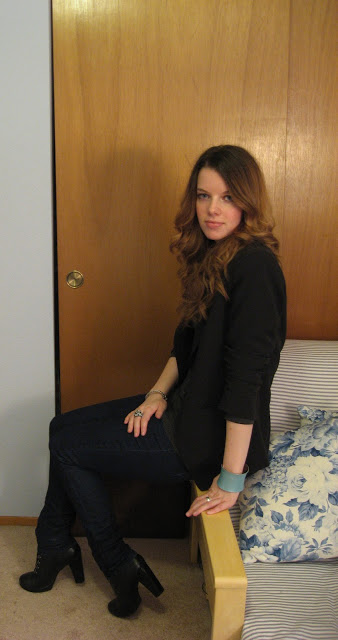 ~ Shirt: Gap
~ Jeans: Target
~ Rings: Tiffany and Nordstrom Rack
~ Bangle: Gift